On the 17th of March the UK went into a country wide lockdown to try and slow the spread of Covid-19. To mark the days each evening I made a cocktail and posted a picture of it on Facebook Cruise Group along with the recipe after the first few posts. The first few post where just a bit of fun but I started to get serious and carried on posting a different picture every night until the lockdown restrictions started to relax (a little) on the 15th June 2020.
There are lots of references to Celebrity Cruises and the ship we were due to take a cruise on in July and the October, the Silhouette, and the bars onboard but the recipes are all good and I have to confess I realy enjoyed the challange … and the drinking of each as well.
These are the daily posts as they appeared……… All 101 Cockails!
17th March 2020………
OK so all seems doom and gloom and we are confined to barracks…. All I can do is hope the situation improves and I will make it on board in July… But in the mean time If I can't go out I will dream of the World Class Bar and Umit's amazing concoctions. Here is one of my experiments the Amora amaro
Amora Amaro
30ml Amaro di Angostura, 15ml Angostura bitters, 20ml lime juice, 15ml simple syrup and 15ml egg white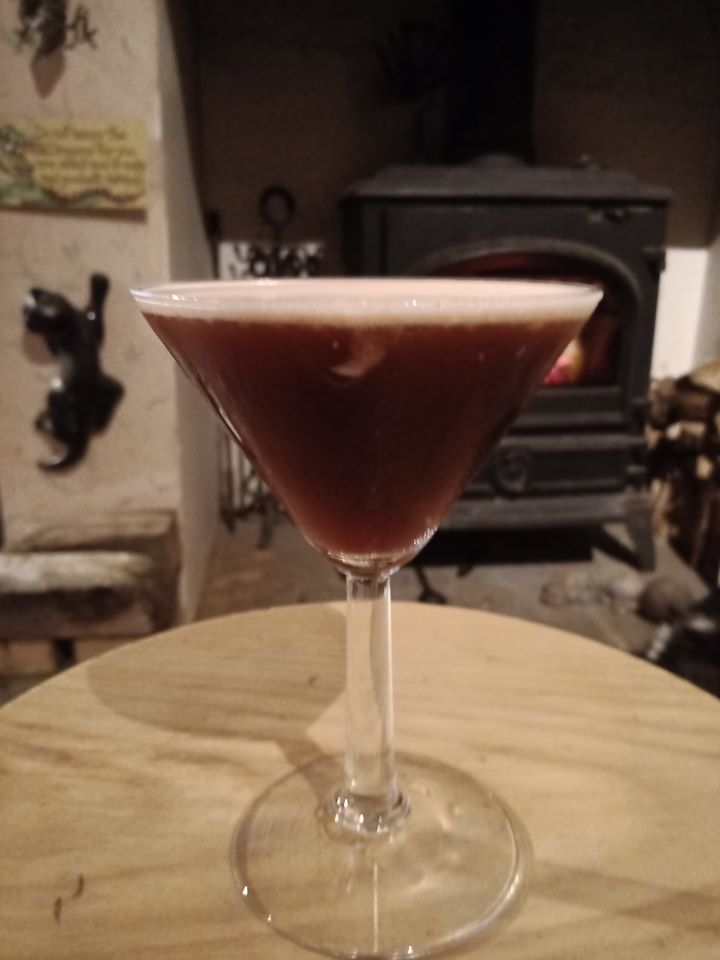 18th March 2020………
While the doom and gloom continues I'm going to continue to dream of those wonderful bars aboard Silly…. This is my favourite cocktail of all time, the Last Word, invented in the 1920s during prohibition. I haven't yet managed to get one on board…. Perhaps Ümit one of the best barmen in the WCB might manage it in July or October…. pllleeeeeeeaaase
The Last Word
40ml Tanqueray Ten, 40ml Green Chartreuse, 40ml Maraschino and 40ml Lime juice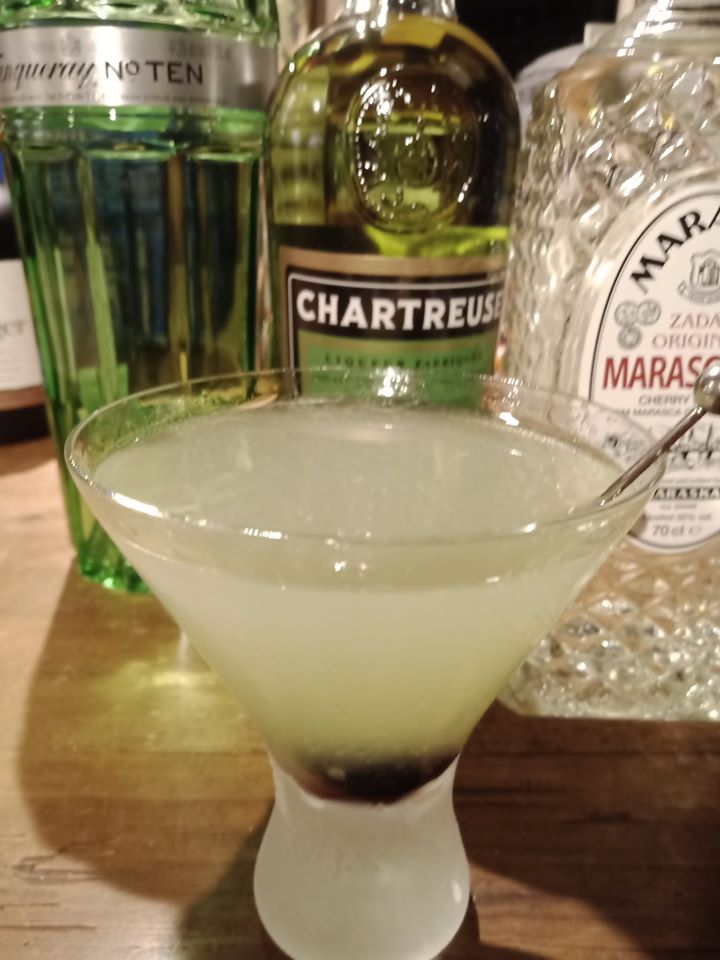 19th March 2020………
Day 3 of my lock down cocktail countdown… I have good friends who were planning to be on the Apex sailing in 24 days. Is it possible for Silly to get to the UK on 1st May as planned?.. Got my fingers crossed for July or even October…. In the mean time try this
Diana's Bitter. 40ml gin, 30ml Campari, 20ml lemon and 10ml simple syrup….. Simples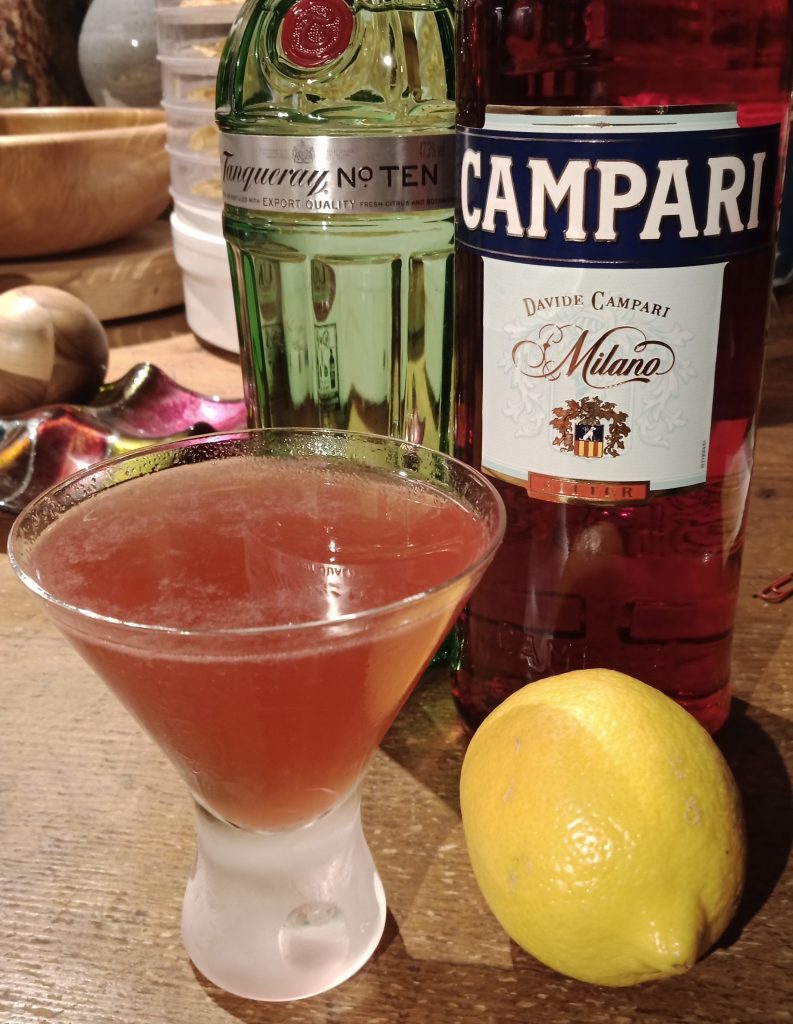 21st March 2020………
Night 5 of my lock down cocktail countdown… Sorry if I missed yesterday but I had a Cuba Libre and as Tom Cruise pointed out that's just a rum and coke…Tonight it's a straight martini with Tanqueray Rangpur and Noilly Prat . I even froze the tray to make it feel a bit more like the Martini Bar
Rangpur Martini 50ml Tanqueray Rangpur, 30ml Noilly Prat dry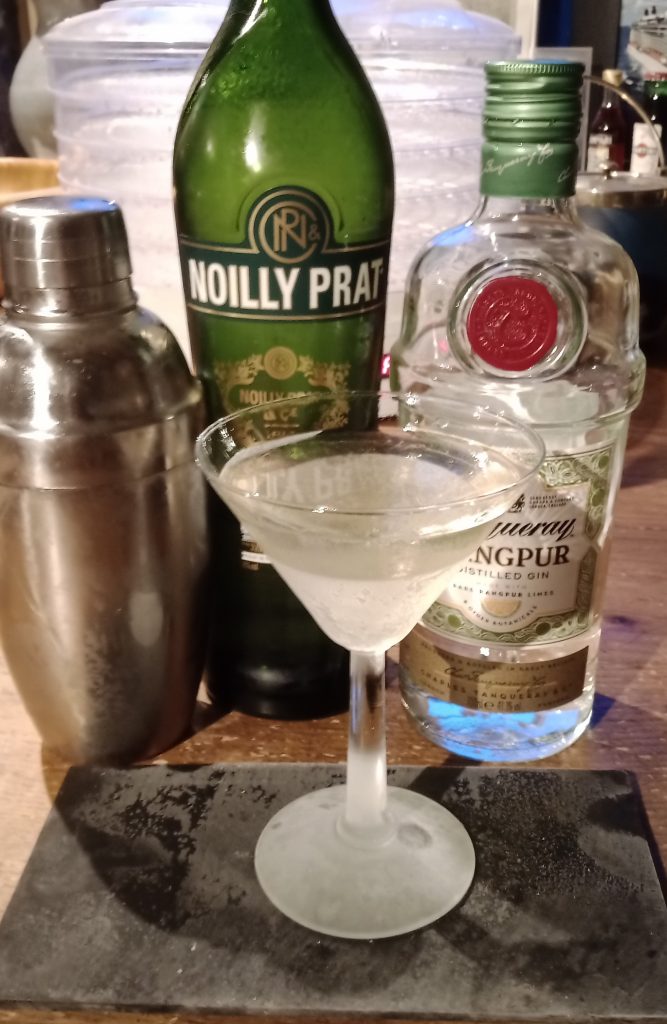 22nd March 2020………
Night 6 of my lock down cocktails. This one I first had in the Ensembe Lounge on Reflection 5 years ago and it has been a favourite since then. We came home that year through Fiumicino and I also found Cointreau blood orange for the first time.
… enjoy a Last Voyage from Ensemble Lounge
Last Voyage 40ml Aperol, 40ml gin, 40ml Cointreau Blood Orange, 80ml pineapple, 20ml lime and 10ml simple syrup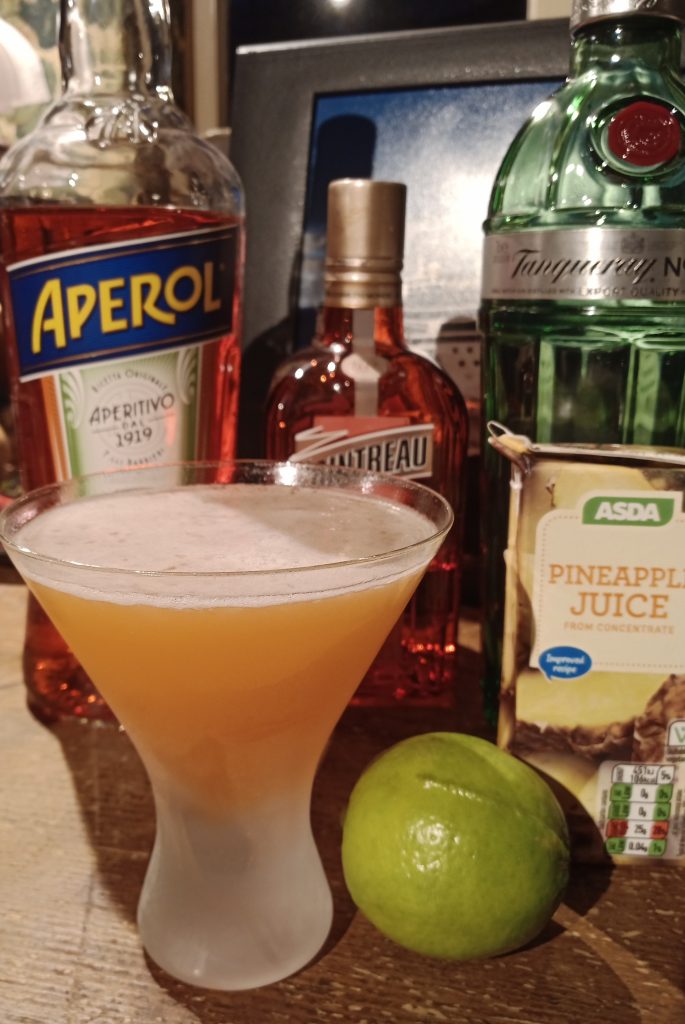 23rd March 2020………
Night 7 of my lock down cocktails and here is something a bit different. The glass should be rimmed with sugar but personally I prefer it without. Oh and sorry Mari much as I would like I can't deliver!
Swiss Watch30ml Kirsch, 30ml Suze, 30ml Yellow Chartreuse and 20ml lemon.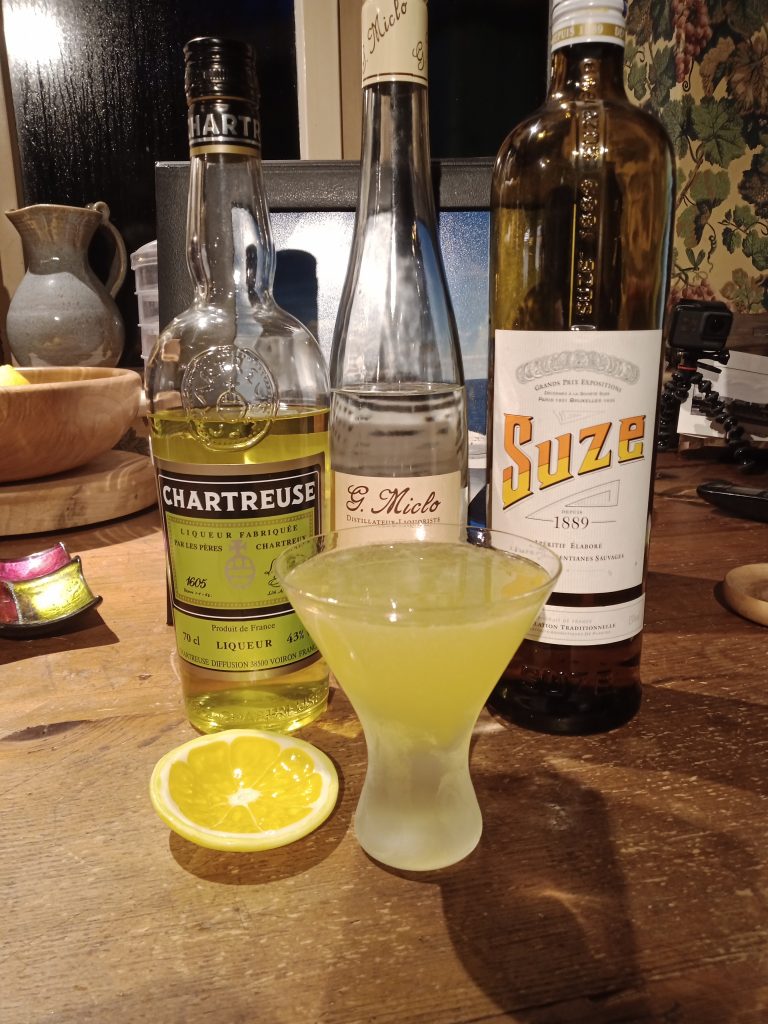 24th March 2020………
Last August we spent an evening in Michael's and the Ensemble Lounge and I finally worked out why many of the cocktails made on board are often over sweet. Most bars other than the Martini and WCB don't use Lime or Lemon but a mix instead that has a lot of sugar and doesn't quite taste of either. Well we fixed it and the bartender in the Ensemble Lounge made me a Japanese slipper that tasted right. I first had this cocktail in 1984 in Stringfellows in London and it is a equal mix of lime, Midori and Cointreau.So for my 8th night of lockdown with bars and clubs across the UK closed I'll bring back memories of that night in August aboard the Silhouette
Japanese Slipper 50ml Midori, 50ml Cointreau, 50ml Lemon juice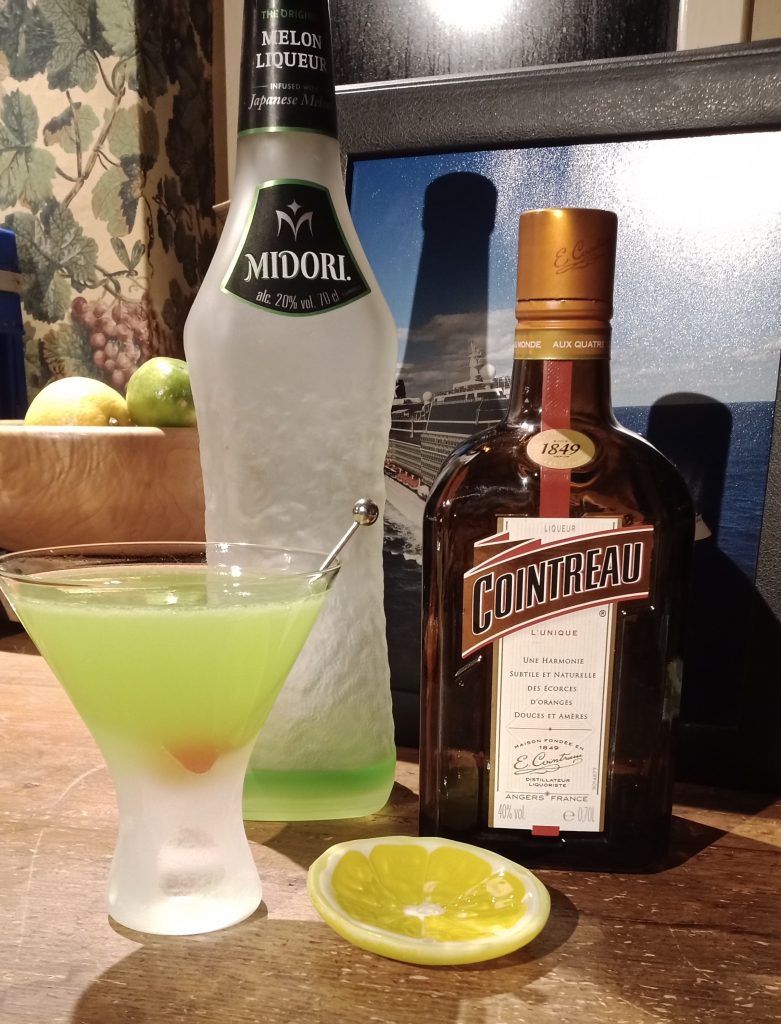 25th March 2020………
9th day of the lock down cocktail countdown and a slight change. For me a cocktail that may not be to everyone's taste called an Averna Jim Jam a composed of …
Averna Jim Jam 60ml Averna, 30ml apricot brandy and 30ml of lemon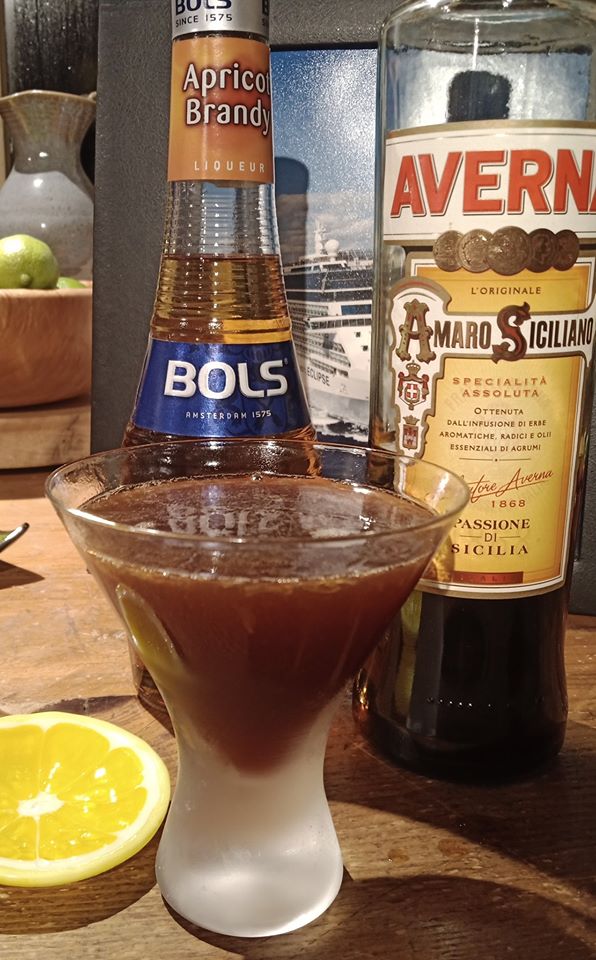 ….. But for my dearest gastronome a Zacapa Old fashioned from the WCB (almost as good as the ones Umit made for her last October)
Zacapa Old fashioned 60ml Zacapa 23, 10ml simple syrup, 2 dashes Angostura Bitters, 2 dashes Chocolate bitters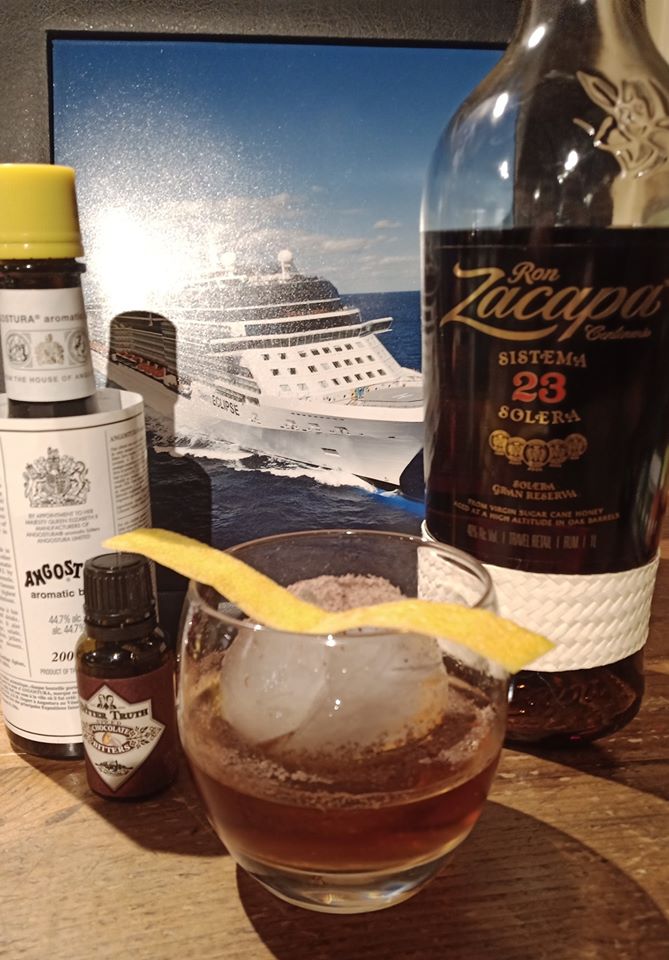 26th March 2020………
10th day of my lock down cocktail countdown and here's a wierdly rather good one by Brooklyn bartender Garret Richards. It's called the Bartender on Acid. Surprisingly good and all the ingredients are available on board I had planned to do a different cocktail every night of this corona lockdown but current UK government advice is for the older and more vulnerable members of our society to lock down for 12 weeks…. That's 84 different recipes
Bartender on Acid 40ml coconut rum, 30ml Amaro Nardini, 10ml dark rum, 20ml Green Chartreuse,10ml lime and 30ml pineapple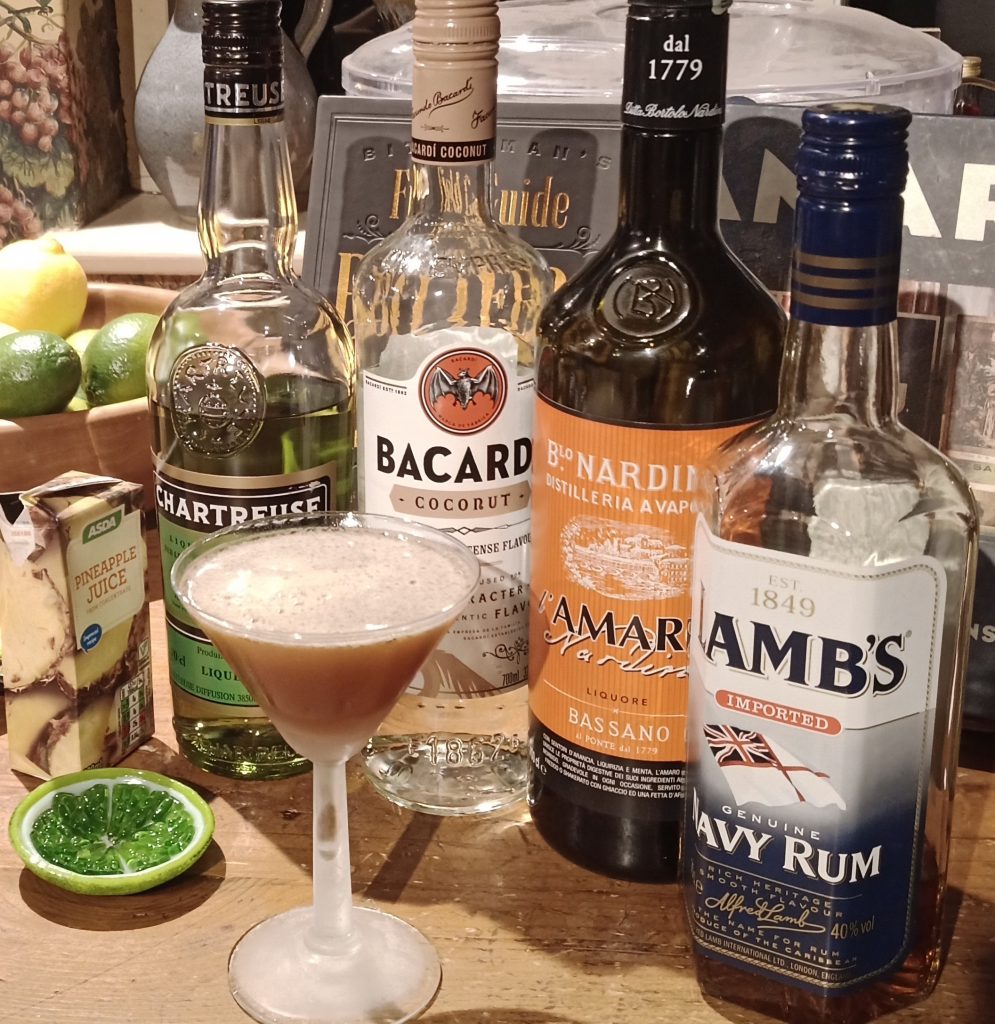 27th March 2020………
As the doom mounts on day 11 of my lock down cocktail countdown I'm going simple and a martini but this time with Tanqueray Ten and Dolin
Dry Martini 50ml Tanqueray Ten, 3oml Dollin dry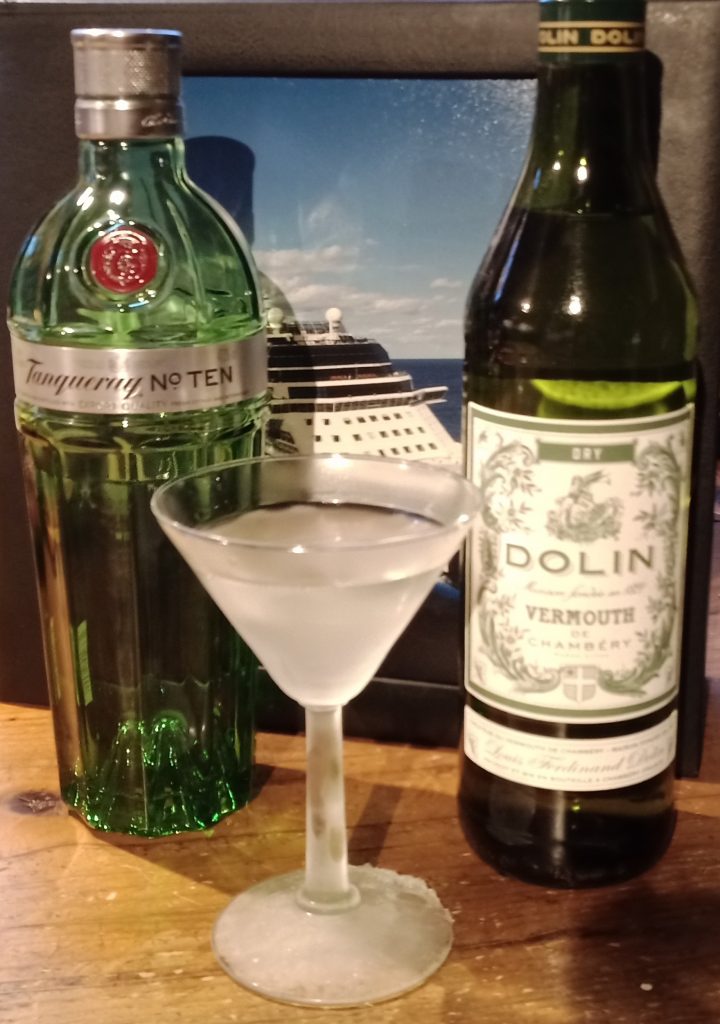 28th March 2020………
Day 12 of my lock down cocktail countdown and in reply to Maryy and Linda I'm doing a martini gin tasting for my DW. Tanquery Ten Vs Star of Bombay both at 50ml with 30ml Noilly Prat.Both these gins are available on board so please use your beverage package on your next cruise to further scientifically taste test these gins.
Martinis Tanquery Ten Vs Star of Bombay both at 50ml with 30ml Noilly Prat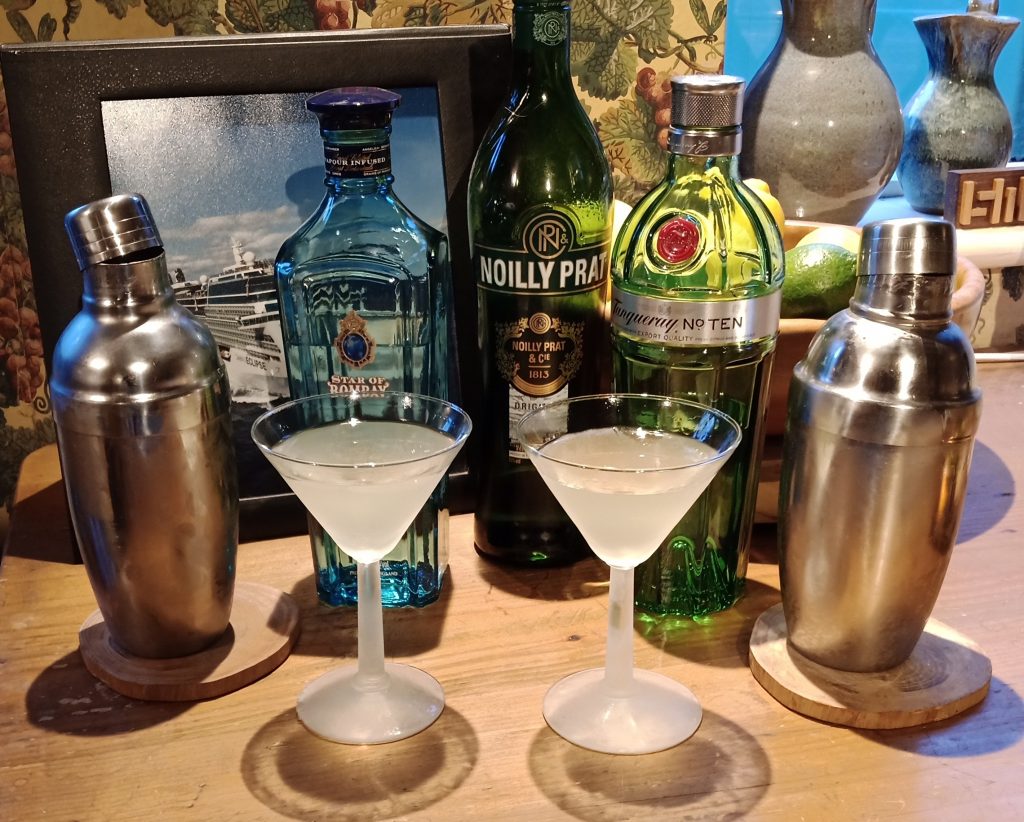 29th March 2020………
Day 13 of my lock down cocktail countdown and as the news gets grimmer I'm going to persever and make a different cocktail every night until I can have one for real on boardTonight it's a Cosmo 43… a slight rif on a Cosmopolitan with a Spanish twist
Cosmo 43 40ml Absolut Vanilla Vodka, 40ml Licor 43, 40ml lemon juice and 40ml Cranberry juice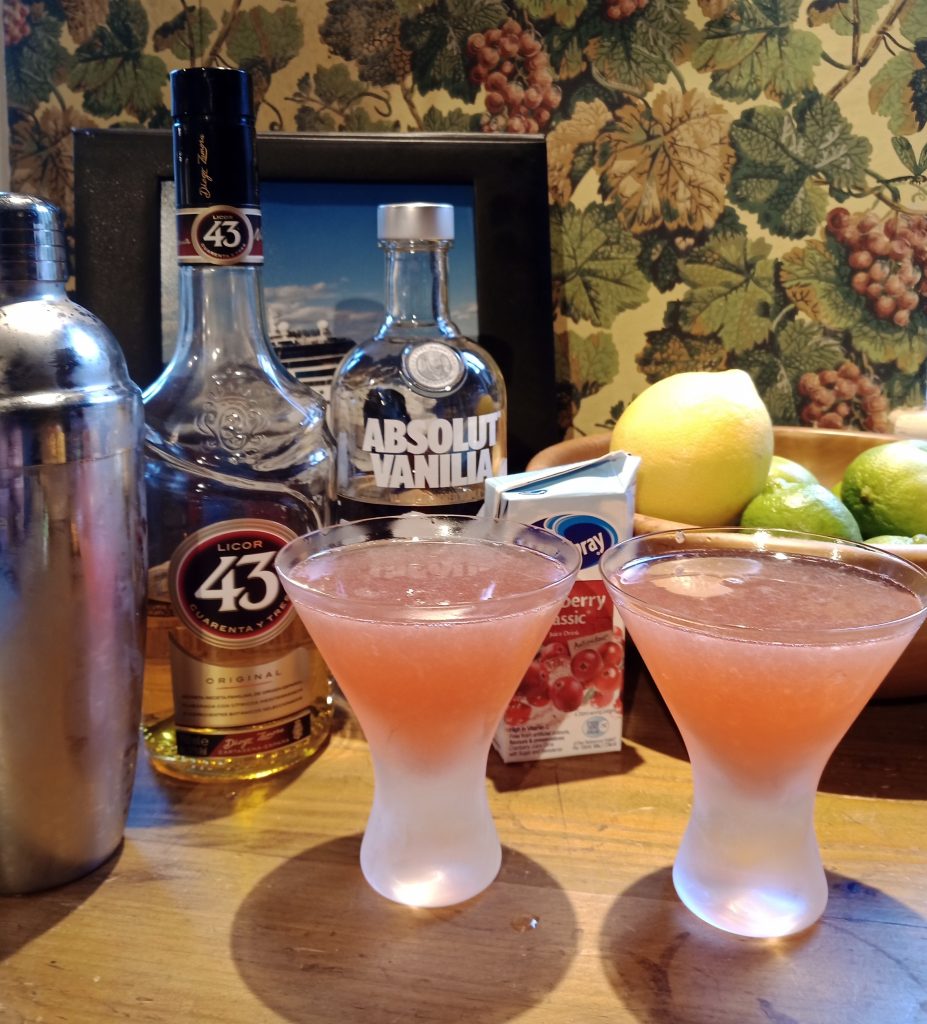 30th March 2020………
Day 14 of my lock down cocktail countdown and here is something a bit more unusual but delicious.A Negroni Sour. I drink negroni's in the evening after dinner and have literally a hundred different recipies. This is one I drink in the early evening, at cocktail hour. It is made up with 30ml each of Tequerary Ten, Campari and Martini Riserva Special Rubino vermouth. To this add 45ml lemon juice, 20ml simple syrup and an egg white. Dry shake then add ice and reshake
Negroni Sour 30ml Tequerary Ten, 30ml Campari, 30ml Martini Riserva Special Rubino vermouth, 45ml lemon juice, 20ml simple syrup, 15ml egg white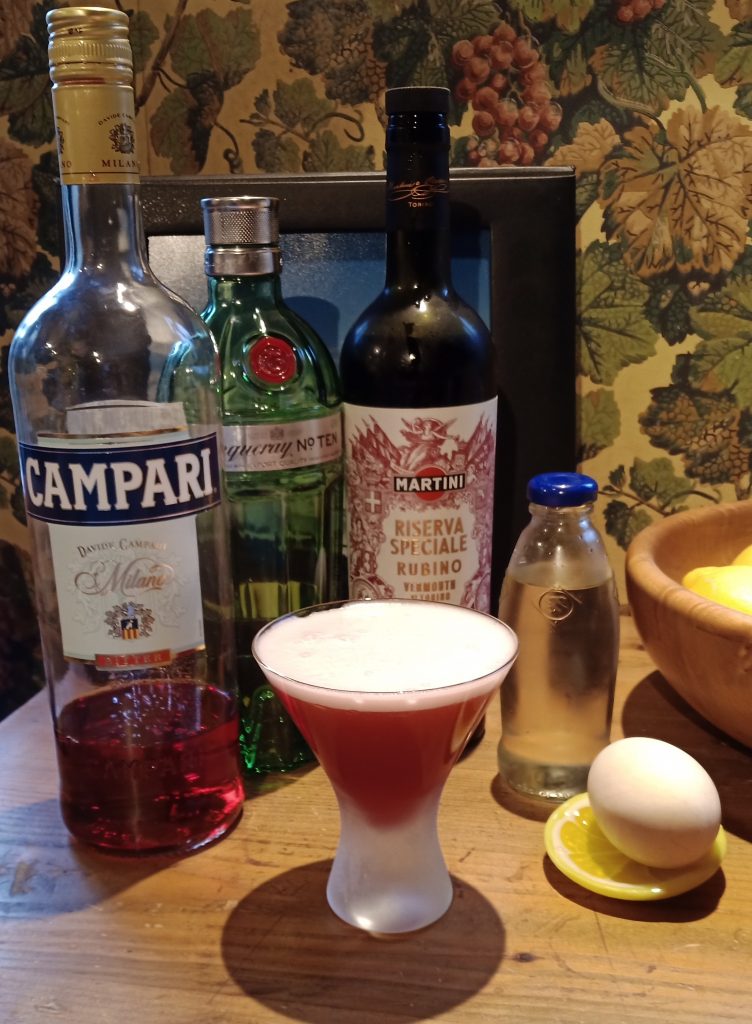 31st March 2020………
Day 15 of my lock down cocktail countdown and here are a pair of cocktails for me and my Gastrognome. Can you guess who's is who's? One is a Bitter Margarita and the other a Hypno Margarita. I first tried Hpnotiq on Silhouette at The martini Bar in a Blue martini
Bitter Margarita 50ml Don Julio Blanco, 30ml campari, 25 ml lime and 15ml simple syrup
Hypno Margarita 50ml Don Julio Blanco, 30ml Hpnotiq, 20ml Triple Sec, 25 ml lime and 5ml simple syrup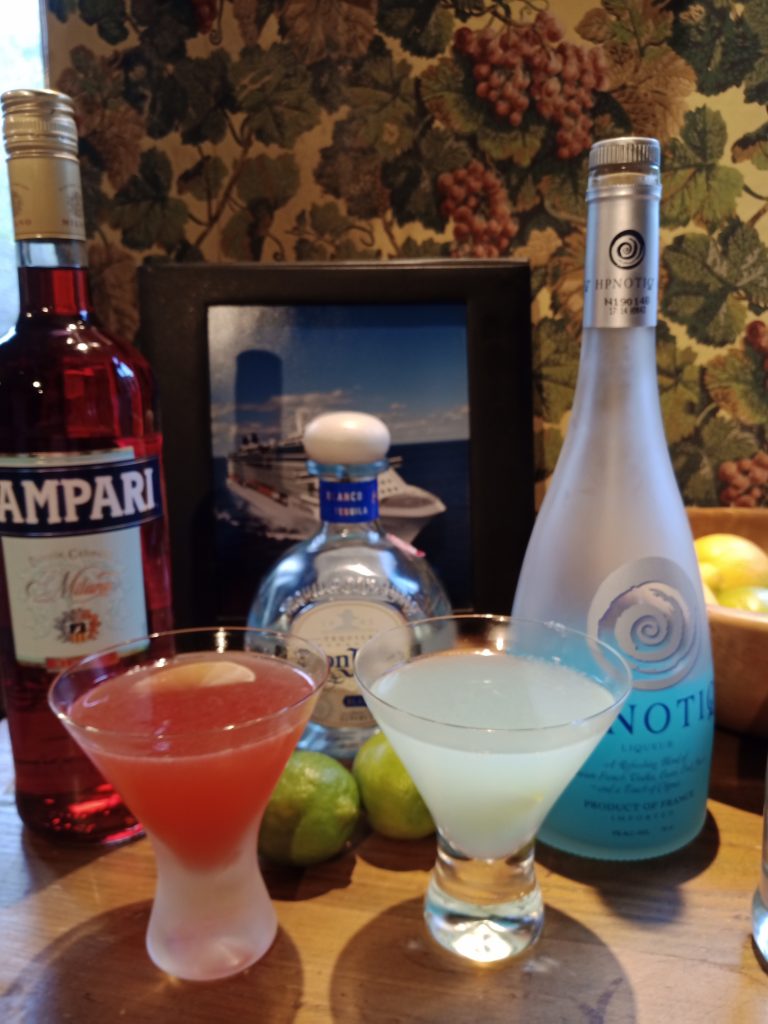 For more cocktails from April 2021Click Here